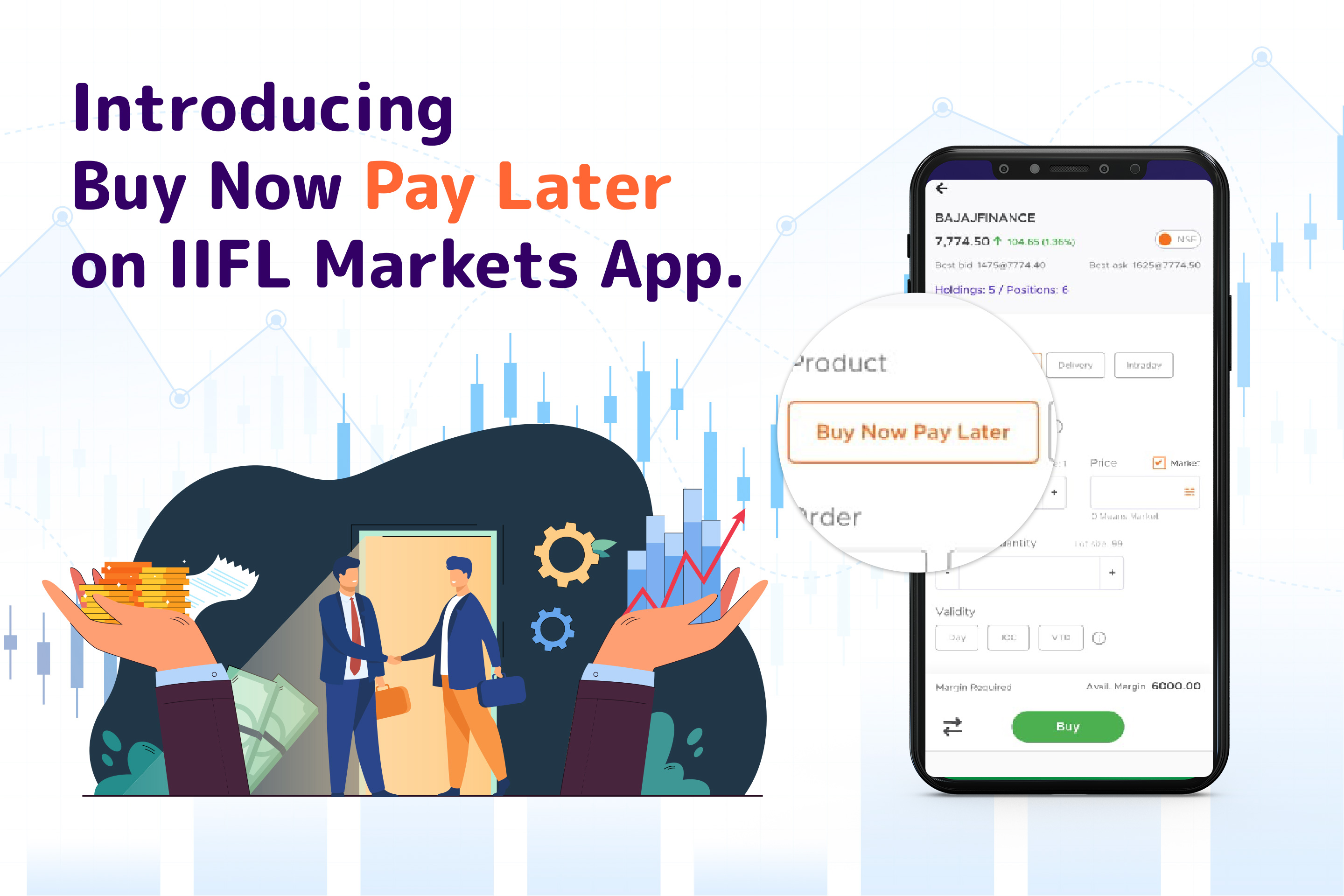 Introducing Buy Now Pay Later
You find an amazing opportunity to buy your favourite stock. You click on 'Buy' on your IIFL Markets app and realize you don't have sufficient funds to buy the desired quantity of the stock.
You bought and sold your favourite stock by paying the full amount and realized returns. However, you feel you could have got more returns than what you received.
Ever felt you were in any of the above two situations? Say no more!
You can now improve your stock buying capability and returns on your own IIFL markets App. Want to know how?
Let's find out. Here's introducing Buy Now Pay Later on the IIFL Markets App.
What is Buy Now Pay Later (Margin Funding)?
Buy Now Pay Later (BNPL) is a delivery order where you don't have to pay the full amount needed to buy the stock. Instead of paying 100% of the stock value, you only have to pay a fraction (depending on the stock category, for eg. 20%). The remaining amount is funded by IIFL at an interest rate of just 0.05% per day. This allows you to buy more quantities of the stock with the same amount of money resulting in multiplied returns!
Let us look at an example.
You have ₹1 lakh with you and buy stocks worth that amount. You sell it after 2 months for ₹1.1 lakh. So, you have a return of 10%.
If you had bought stocks using BNPL, you could have bought stocks worth ₹5 lakh and sold them for ₹5.5 lakh after 2 months. The interest charged for the funded amount (₹4 lakh) during these 2 months would be ₹12,000.
Returns = Sell Stock Value - Buy Stock Value - Interest Charges
= 5,50,00 - 5,00,000 - 12,000
= 38,000
Return % = (Returns/Invested Amount) x 100
= (38,000/1,00,000) x 100
= 38%
So, you see that instead of getting 10% returns you get returns of 38% using BNPL.
How do I avail this?
Step 1: You have to select on BNPL product while placing an order.
Step 2: After placing the order, you need to pledge the stock.
You can pledge from the Funds tab of the app and click on "Buy Now Pay Later Account".
IIFL and your depository will also notify you to pledge the stocks by sending a link on T-day. You need to visit that link and confirm the pledge request with an OTP. This link would be valid till T+2 days.
That's it! You can now enjoy the benefits of Buy Now Pay Later on your own IIFL Markets App.